---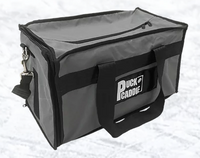 A puck bag that can carry everything the coach needs to run effective and safe practices or to prepare for hosting games and scrimmages. Made of waterproof canvas, this unique carry-all will make you wonder how you ever managed before! 
Lay on side to shoot pucks in and avoid having to touch the pucks. Zip it up when you are finished and you are good to go.

Sturdy zippered panel locks all your items in place and the handy shoulder strap frees your arms up to find your keys to unlock the car door without dropping everything!